Shed Body Cellulite and Fat Pain Free with Ultrasound Cavitation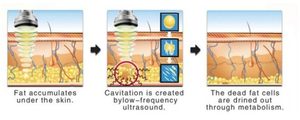 Ultrasound Cavitation is the most evolved system for the treatment of adipose areas and cellulite using Ultrasound Cavitation technology to breakdown fat cells. Unlike other treatments on the market, Ultrasound Cavitation is entirely pain free, non-invasive and gives lasting results without the use of suction, freezing, pulling, bruising or discomfort.
Ultrasound Cavitation machine is designed to work at the ideal frequency to accomplish effective cavitation(air molecules formed in a liquid) for maximum results. It helps men and women with fat deposits on the belly, thighs, hips, breasts, upper arms, bra-edge, double chin etc. The released fat is then metabolized through the liver and natural means. Only a few treatments are needed for a brilliant performance. No injections or other interventions are needed, no anesthesia, no antibiotic treatment, and you can immediately return to your normal activities. It will stimulate their lymphatic system increasing blood flow, releasing triglycerides that act as fuel for the body giving a boost in energy and vitality within a few days. It also helps people that may be unable to do daily exercise because of physical disabilities.
The treatment should not be seen as a substitute for other weight-reducing measures but as an additional aid to a good diet, exercise and detox. Reduced weight and a more attractive body improves the self-image, increases motivation and makes it easier to get started on a healthier lifestyle. Results may vary, please take in consideration our recommendations and understand that this is not a substitute for other weight-reducing measures.
Immediately after the treatment you should take a brisk walk or similar exercise. To get the maximum effect of the treatment you should drink plenty of water for 24 hours before and after the treatment, at least 1.5 liters per day. Minimize the intake of carbohydrates and fat 24 hours before the treatment to burn and secrete fatty acids and glucose. The exercise carried out afterwards should be powerful.
Ultrasound Cavitation treatment is the treatment that works without surgery, without Pain, without bruising, totally safe and effective giving same day results. Added bonus it helps to reduce stretch marks, pock marks and scars.