How Is Cryolipolysis Compared To Other Procedures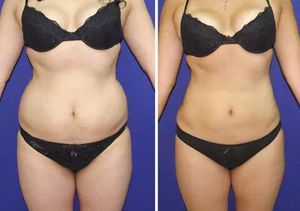 Fat Freezing also known as Cryolipolysis is a non-invasive, pain-free treatment, which removes the unrequired subcutaneous fat layers from the areas where exercise and diet prove to be ineffective.
Cryolipolysis goes against the conventional treatment of fat tissue from the last 20 years in that instead of using heat to "melt" fat, cold temperatures are used to "freeze" fat. It involves cooling of the adipose tissue to induce lipolysis – the breaking down of fat cells – to reduce body fat without damage to other tissues. The body's normal metabolic processes gradually eliminate the fat cells from the treated area. Results take longer to be seen, but are effective as part of a course when combined with the Cavitation.
Cryolipolysis involves placing a flat, saucer-shaped, suction-cup device on the area of treatment. The device cools rapidly and is held on the area between 5-20 minutes. This method affects, or "freezes", the subcutaneous layers of fat tissue without disturbing the normal temperature of the epidermis.
Cryolipolysis is different to other non-surgical lipo treatments that use lasers (like, Strawberry, I-Lipo, and Laser Lipo). With Cryolipolyis fat cells are permanently destroyed. Clinical studies have shown Cryolipolysis treatment to be effective on between 20% - 40% of the fat cells in the treatment area in just one session. Cryo Lipo cools the fat in the treatment area of your body, when cooled to a controlled temperature the fat cells crystallise and die.
The Cryolipolysis treatment results in a notable and natural reduction of fat tissue, avoiding the traumatic experience of invasive methods, and the risk of damage to surrounding tissue. It is different to other non-invasive laser lipo offerings that use lasers (like I-Lipo, Strawberry and Laser Lipo). Cryolipolysis, physically destroys the fat cell, and no course of treatment is required as in these other laser based treatments. No exercise is required for the treatment to get results and the results are permanent. The results are not as fast or as dramatic as invasive procedures like liposuction or tummy tuck. But Fat Freezing is an effective alternative for those wanting to avoid the higher cost, pain, risk, and recovery time associated with surgery.
Cryolipolysis is the natural way to freeze fat and therefore help your body to naturally eliminate it with time and effort. It still requires diet and exercise, and so far, they have only tested on bodybuilders and others that would be defined as "fit." They use the same target group as something like liposuction.